I want to purchase a Built In Grill. Do I need a Fire Magic Insulating Liner?
Fire Magic Built In grills are not insulated and require a minimum of 18" clearance from unprotected combustible materials on all sides. You will need an insulating liner if you plan to use combustible materials in the construction of your island. Combustible materials include wood, plastic, or stucco with wood framing. You can purchase an insulating liner at the following link.
Fire Magic Insulating Liner
If your island is made of non-combustible materials such as stone, brick or steel you are not required to purchase the insulating Liner.

What does the Fire Magic Insulating Liner include?
The insulating liner kit includes the pre-assembled liner, two support hangers and a heat shield. Countertops made of combustible material, such as wood, Formica, and Corian, can extend up against the outside and back walls of the insulating liner. The cabinet face may be made of combustible material up to the front flange of the insulating liner, as long as a minimum of 100 sq. in. of air ventilation is kept. Cut out dimensions for the insulating liners can be found in the manuals below.
Fire Magic Deluxe, Power Burner, Searing Station Insulating Liner Manual
Fire Magic Echelon Insulating Liner Manual
Fire Magic Aurora Insulating Liner Manual
What about Fire Magic Side Burners?
Select Fire Magic Side Burners come insulated, so you will not need to purchase an insulating liner for these great side burners. Reference each individual manual for details on which burners need an insulating liner.
Fire Magic Side Burners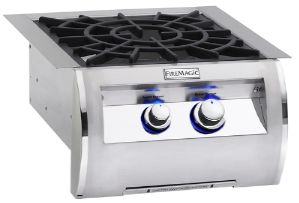 This article is written by Fire Magic Shop at
Google +